When Morgan Hill Water Damage Requires Professional Help
4/10/2023 (Permalink)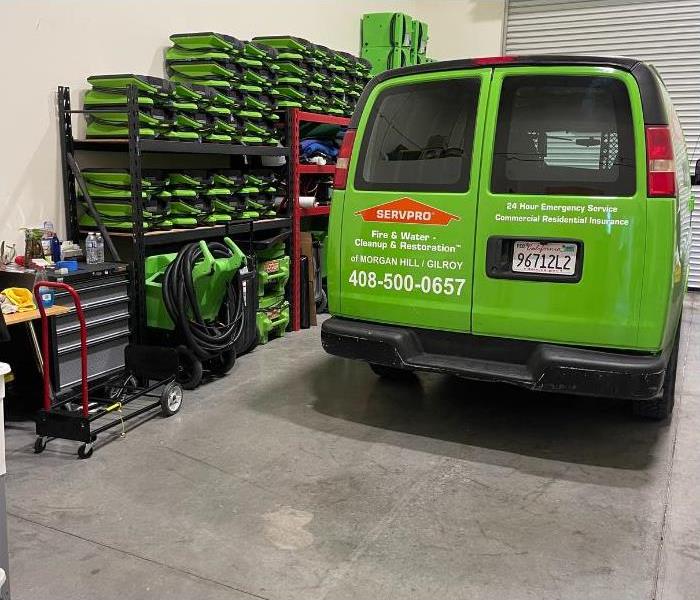 SERVPRO has the equipment and skilled technicians your Morgan Hill home needs after water damage. Give us a call today.
SERVPRO Mitigates and Restores Water Damage
The community is larger than the 45,000 residents, as Morgan Hill is directly connected to Silicon Valley and has been the birthplace of many tech startups. Facilities and offices and the thousands of residences throughout the city must be reached quickly after water disasters. Water and moisture threats spread fast in a household or structure and can result from several types of disasters like:
Plumbing damage
Leaks
Appliance issues
Flooding
Accidents
Our professionals urgently respond to Morgan Hill water damage. A single loss event could be devastating and expensive with many luxury homes and sprawling commercial properties within the municipal limits. Our SERVPRO Green Fleet is ready to move at the first notice of loss, stocked with air movers, dehumidifiers, extraction tools, and other drying equipment.
The Timeline to Restore a Home
The water restoration process consists of hundreds of drying decisions and fast actions taken in the earliest stages. Because permanent damage can result from exposures over 24 to 48 hours, our SERVPRO team must choose the most efficient strategies to manage threatening scenarios and mitigate loss. Mitigation happens through several emergency services:
Water Removal – Rapid extraction techniques to remove standing water from surfaces and trapped in structural cavities.
Controlled Demolition – Contractors remove compromised structures and discard damaged and sagging materials.
Content Relocation – A process of removing at-risk personal belongings and contents to a safer house location.
Plumbing Repairs – Restoring water service is a needed action and a priority, but repairs also prevent continued damage to the structure.
The Importance of Air Movers
Between axial and centrifugal units, air movers play a substantial role in evaporating trapped moisture in building materials and moist conditions after water damage. These machines are often placed with a heavy frequency, linking them together in a process known as daisy-chaining to conserve available outlets on portable power sources. The more effective air movers are, the more connected services like dehumidification are needed to regulate growing moisture content.
Regulating Moisture Content
While wet surfaces and building materials can be challenging, our professionals must also contend with saturated environments. We carefully monitor the relative humidity percentage and humidity ratios of the impacted rooms to adequately place dehumidification equipment like desiccants and low-grain refrigerant models throughout the structure to help.
Water Damage Repairs
Not only must our professionals work fast to provide the needed restoration and recovery for properties contending with water damage, but there are often repairs and reconstruction needs of the property as well. Considering that many of the ruinous situations homes face result from broken plumbing or damaged fixtures, our general contractor license ensures that the right experienced team members are present for all needed build-back services.
Preventing Mold Damage
Persistent moisture can be a condition that ultimately facilitates mold growth and microbial damage. We must consider this possibility as a certainty with exposed surfaces to keep emergencies from becoming a more costly and involved restoration and remediation need. Not only does this mean applying antimicrobial inhibitors on surfaces exposed and at the greatest risk, but it also means verifying the progress and success of drying processes with equipment like:
Thermal imagery
Moisture sensors
Probing moisture detectors
Hygrometers
Considering the destructive capacities of Morgan Hill water damage events, professionals must respond fast to prevent irreparable harm. We are leading WRT-Certified technicians for mitigation and restoration after emergencies. Give our SERVPRO of Morgan Hill / Gilroy team a call as soon as possible at (408) 500-0657.